When you're planning inventory for a business, the very thought of where to begin can be overwhelming to say the least. Knowing where to start and what can help to create an organized and functional system can be useful for any business that is planning an inventory from scratch.
However, according to Conveyco, a staggering 43% of small businesses located in the US alone, don't track their inventory. This is likely having a major impact on efficiency and growth for many businesses. 
That doesn't mean yours should follow suit though. Here is a helpful guide on planning inventory for a business.
Image Source
What is inventory and what are the different types?
Inventory is referred to any physical assets that are owned by you as a company. For example, if you stock raw materials for building or product assembly, then this would be your inventory. Any equipment used for the business like workstations would also be classed as inventory.
You can start to see how this inventory can quickly start to grow, right? So with that said, you should be after some sort of inventory management system to keep track of it all first and foremost.
So what are the different types of inventory? It's worth knowing these in order to segment your inventory properly from the start.
Raw materials 
These are anything that is used in order to make a product whether that's steel to oil.
Work-in-process items
Usually found to be partially completed goods, these products have gone from being raw materials to near-completion products. Manufactured goods will often also fit into this category.
Finished goods
Fairly obvious one but finished goods are products that have been completed and are at the end of the manufacturing process. These inventory items have not yet been purchased by the customer though.
Maintenance, repair and operations goods
Finally, these goods are any materials, supplies or equipment that are used to help in the production of a product but aren't part of the completed products themselves.
How to plan inventory for a business
One of the biggest challenges that comes with planning inventory for a business is actually finding a system that can cater to the level of inventory you have. You also want a system that can help you organize your inventory in as simplified a form as possible.
But before getting into the inventory management system, there are a few areas of inventory management that are worth knowing about before finding a system for the business.
Reordering inventory
Reordering inventory is a challenging one because as a business grows, so does the level of inventory required. How much inventory do you need to order per week? Does that need to increase during various points of the year due to spikes in sales, etc? Are there certain types of inventory that you need more or less of?
Finding the balance is something that often comes with time and how well you're able to manage the cash flow of your business. Every company is going to be different and so it's important to find what works best for your needs and requirements.
Tracking inventory levels
Monitoring inventory levels is an important one because in turn, that helps you figure out what, where and when you'll need to reorder in. There are two types of inventory tracking which are called periodic and perpetual. Periodic is done usually at the end of the year and perpetual is where it records and updates the inventory after every sale or purchase.
The cost
What about cost? Probably one of the most important areas for all businesses in any function of the company is the costing. With costing, it can help those managing the books to balance them more effectively and to make the relevant calculations needed to ensure there's enough margin between your profits and the inventory costs.
Why is inventory management important?
Inventory management is important because it helps to run your business a lot more smoothly. Without it, there would be a lot less organization with your inventory and as such, things can end up going wrong and mistakes can be made.
Keeping customers happy is also a very obvious benefit that comes from having a more organized inventory system. Small Biz Genius found that 87.2% of organizations would agree customer loyalty relates directly to commercial success.
It helps keep products in stock that are popular with your buyers and will avoid disappointment when it comes to product launches and drives. 
Just like any platforms or software you invest in, it can also help to grow the company. With more streamlined and organized processes in place, it gives your employees more time to work on other areas of the business that can encourage growth and more success.
Inventory management systems – The basics
Before you go spending your money on the most popular or highly recommended systems out there, it's important to know what you're looking for.
There are some key features that you will need in order to find the best inventory management system out there that not only works for your business but is affordable too. Having better control over your inventory is important, as well as having the tools needed to do any forecasting or projection on the changes you'll need to make.
As it's been mentioned, for some businesses, the levels when it comes to reordering stock throughout the year might change. Having a system that makes all the predictions for you, can certainly be handy.
Barcodes and scanning is another important feature to have in your inventory system to better organize everything through the data that's supplied with these barcodes. It can make it a lot more accessible to everyone within the organization, particularly those responsible or the purchasing of stock, etc.
As well as having inventory analysis available, it's important for the inventory system to integrate and configure effectively with existing platforms and processes in place. So before you go shopping for a system, there's a lot to think about.
What inventory management systems are available?
Once you've figured out your needs for the inventory system, you'll need to find the best ones on the market currently. Depending on your business size and the budget available will influence which one you pick. There's also ones better suited to the type of business that you have.
To get started, here are just a few suggestions that might be best for you.
Lightspeed
Lightspeed is good for retail businesses. It's inventory planning software helps to order more stock, monitor what's available and can help move your inventory faster than ever before. It can also allow you to make smarter decisions in what is often a fast-paced industry.
Image Source
Upserve
Upserve is a great one for businesses that operate as restaurants. Some of its benefits offer waste and ingredient tracking, as well as speciality supply chain needs.  
Image Source
inFlow
A good budget option for those small businesses and start-ups that might not have access to a lot of funds. They offer low-cost plans but have a lot of variety in it's features available.
Image Source
Fishbowl Warehouse
If you run a warehouse of any kind, then this is a good one to help with the day-to-day inventory management. It makes it easy to check stock levels, helps with packing and shipping items to customers too.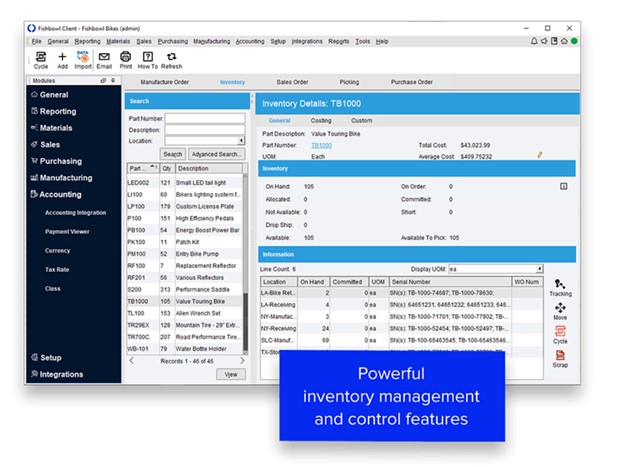 Image Source
Tips to improve your inventory this year
An inventory management system is only part of improving your inventory as a business. There are certainly some tips to follow in order to maximize your efficiency and processes.
Consider what your business needs
Think about your business needs firstly. What you need in your inventory management is going to be different to another company. It's also one that's daunting to face when you don't have any tracking of inventory in place.
Focus on keeping your top-selling products in stock and ensure your customers remain happy. That's the top priority as a business.
Develop a system that works
Depending on your needs will depend on what platform you pick. Think about how your business currently deals with the various inventory processes and incorporate a system that betters your processes, making them easier to manage.
Communicate with your suppliers
It's often the case that your supply chain will change over time, as your business grows and develops. Some suppliers might not be able to cater to your growth, whilst others can adapt easily. 
Communication is an important part of strengthening relationships with suppliers and ensuring stock arrives on time. Fewer disruptions in the supply chain will better your customer's experience and reduce the impact financially. 
A study found that the average cost of supply chain disruption is around $310,000. Whilst this might differ from company to company, any amount of financial loss can prove fatal.
Utilize real-time data
Data is powerful but it's something that needs to be accurate and up to date, otherwise it doesn't prove as efficient or effective. Having a system in place can certainly help take advantage of any data you do have when it comes to your inventory.
Try going mobile
Going mobile is what many businesses tend to do nowadays because the technology for it is so accessible. It can help track goods faster with barcode scanning and also helps with inventory data whilst on the road. There's no need to be restricted by a desktop computer or being based in a warehouse during working hours. Remote access is the driving force behind many modern-day businesses nowadays.
There are some fantastic benefits to planning inventory and if anything, it can help fast track your company to further success. Use this guide as a starting point to plan inventory for your business this year.
Author Bio: Natalie Redman
Email – natalieannredman92@gmail.com
Freelance writer for many clients including Skale, Natalie has two years of copywriting experience. Natalie has a wide range of experience copywriting for web pages for businesses across many industries. She's also an owner of two blog websites and a Youtube content creator.